Justin Constantine
---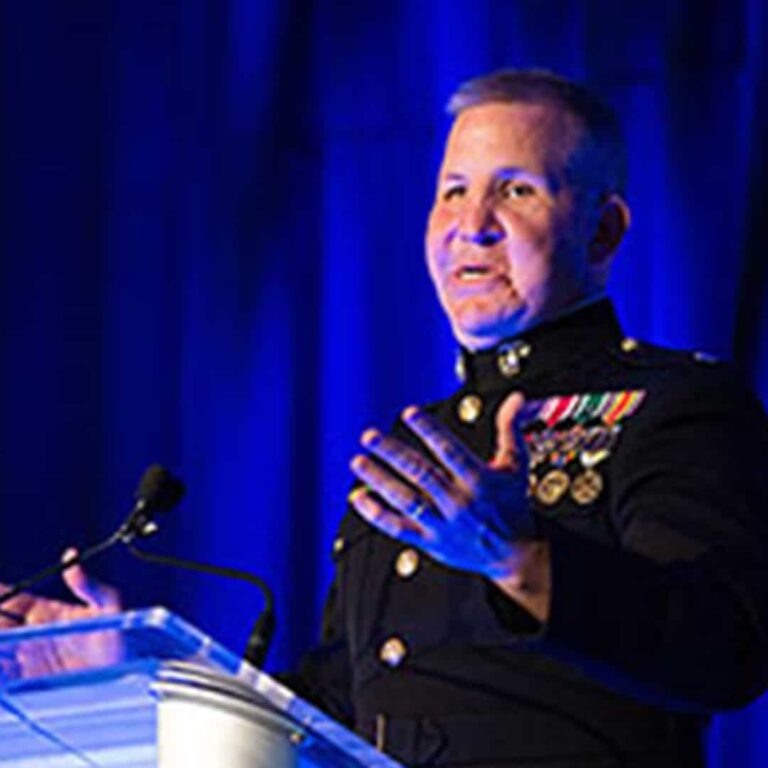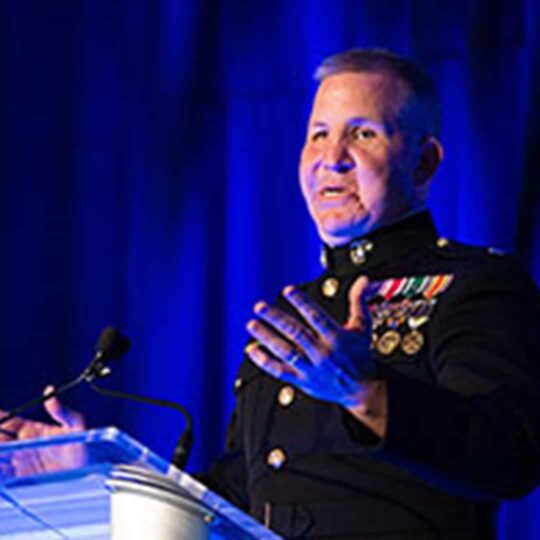 Justin Constantine retired from the Marine Corps at the rank of Lieutenant Colonel. He is now an inspirational speaker and Veteran advocate. He speaks at numerous corporate, educational and military institutions about leadership, the upside of change, teamwork and overcoming adversity. Justin is also a Senior Advisor at the US Chamber of Commerce Foundation's Hiring Our Heroes program. And as a consultant with Military.com, Justin assists corporations with all aspects of their Veteran hiring initiatives.
Justin deployed to Iraq in 2006, serving as a Civil Affairs Team Leader while attached to an infantry battalion. While on a routine combat patrol, Justin was shot in the head by a sniper. Although the original prognosis was that he had been killed in action, Justin survived thanks to risks taken by his fellow Marines and a courageous Navy Corpsman. For his service in Iraq, he earned the Purple Heart, Combat Action Ribbon and Navy-Marine Corps Commendation Medal.
After recovering from his injuries in 2007, Justin worked at the U.S. Department of Justice and then as Counsel for the Senate Veterans' Affairs Committee. In 2011 the Secretary of Defense appointed him to a four-year term on the Task Force for Recovering Warriors. Justin also worked for several years with the FBI as an attorney on a counterterrorism team.
He recently completed his first book, My Battlefield, Your Office, which applies military leadership skills to the private sector. His writing on military and leadership issues has been featured in such outlets as CNN, Time, the Washington Post, The Atlantic, Forbes magazine, USA Today, Business Insider, Stars and Stripes and the Huffington Post. Justin is also a co-host of the weekly Internet program, Military Network Radio, and a weekly guest on the Internet radio station All Marine Radio.
Justin graduated from James Madison University in 1992 with a double major in English and Political Science and a minor in German. He joined the Marine Corps while in law school at the University of Denver School of Law, and graduated from there in 1998. Justin was the Honor Graduate of his class at the Marine Corps Command and Staff College in 2009. In 2015, he graduated on the Dean's List from Georgetown University with a Master of Laws degree focusing on National Security.
In 2012 the Virginia Legislature passed a commending resolution highlighting Justin's continued support of Veterans and other wounded warriors. Justin is a Presidential Leadership Scholar, has been named a Champion of Change by the White House, and also was awarded the prestigious inaugural 2014 Lincoln Award recognizing his outstanding achievement and excellence in providing opportunities and support to our nation's Veterans and military families.
Justin passed away in May of 2022. JDog was sorry to learn of his passing and hopes that he rests in peace. To learn more about Justin, please go to www.justinconstantine.com.